Leading Manufacturer and Supplier of
Laboratory Furniture and Fume Hood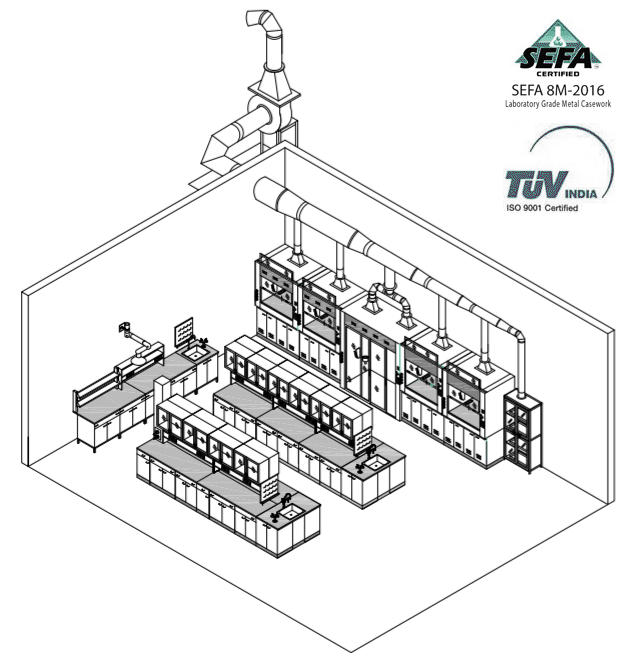 The preferred laboratory builders since 1992
We know that the culture, the need and the budget of every laboratory is different. We build Modular Lab Furniture and Fume Hoods to fulfil variety of needs of laboratory people. Every piece of furniture is built to contribute in day-to-day laboratory activities. Our wide range of modular elements and adaptable furniture, help you design a modern space that conforms exactly to your individual needs conforming GLP norms. With a wide selection of colours and finishes, each design solution of today will continue to meet your demands in the future.
Aakar Scientific growing presence within the laboratory furniture design and furnishing market is a testament to our exceptional levels of customer service and satisfaction. As a best Laboratory Furniture Manufacturers in India, we cater to a wide range of customers such as pharma, bulk drug, API and formulation laboratory, industrial quality control laboratory, clinical lab, Instrument lab, clean lab, pilot lab, research and development laboratory. Our professional team manages your project from start to finish. We first, plan and design that can offer substantial savings on professional fees. From our initial site visit, our design team will produce detailed CAD drawings and isometric drawings to understand the pictorial view of your lab requirements. Our estimating department will then provide a detailed cost breakdown of the proposed layout including a detailed scope of works.
Contact us today to see what we can do for your lab project.
Lab Design & Installation Projects
What people are saying About Us
"Our laboratory is furnished by Aakar Scientific well within the time frame. We are satisfied with Aakar products. Aakar products are user friendly and hassle free. I experienced their prompt customer service before and after sales. We recommend Aakar's name in laboratory fraternity"
"We have been their repeat customers since last few years. Aakar products create space and provide ease of doing experiments within the lab. Aakar products are very simple, useful, cost effective yet satisfying our need. Their service is something you can rely on. We had very good experience working with Aakar."
"We are very satisfied with our purchase and the service provided by your team. We hope that you linked working with us. We look forward to working with you again in future & wish you continued success."